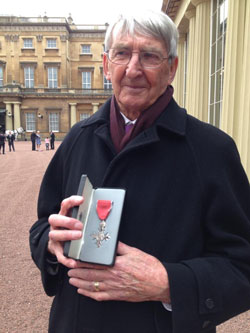 Since Adam died in 2009 Dave has worked tirelessly to make a real difference in Adam's memory. The Charity set out to educate young people about the dangers of binge drinking and casual attitudes to violence. The family felt a need to do something positive as a legacy for their son and produced an education pack using Adam's story as the central message. The story, as told by Dave is very moving and powerful, it not only tells what happened that night but also conveys the message of what the impact has been on the family and what sort of person Adam was. It has a profound impact on all those who see it.
Dave has been a tower of strength within the charity. His dignity, gentleness, warmth and presence has reached out to so many people. He got involved in work in prisons very early on as part of his Restorative Justice meeting. His ability to communicate and connect with the prisoners is quite remarkable. He has had so many letters telling him how he has made a significant breakthrough in their rehabilitation.
Although we originally produced our pack to be used by 16 – 19 year olds in schools it has had a much wider remit. It is being used in schools from Year 7 to Year 13. It is being used by a wide range of organisations that work with young people, Youth Clubs, Training Groups, and Young People's Services. It is also being widely used by Youth Offending Teams right round the country. We have had lots of positive feedback from both young people and those delivering the materials We had a powerful message from a Senior Practitioner in the Youth Offending Service "Our Service has been using the Every Action Video in their offending behaviour programme sessions. I would like to let you know that we have found the sessions very successful with young people getting them to realise the potential fatal consequences of using violence. Over the past year, of the ones where we have included the resource in their offending behaviour work, we have had no reports of violent re-offending. This applies to offenders that we have worked with up to the age of 18. Given the positive feedback, your Memorial work for Adam it is certainly making a difference."
So far 3,500 packs have been sent out. It is being used widely in Lancashire, Cumberland and Greater Manchester. We have worked closely in partnership with Lancashire Police, Lancashire Trading Standards, Cumbria Police and GMP. It is also being used in many different parts of the country from Scotland,Wales, Midlands, London, and as far as Guernsey and the Isle of Wight. In schools, each of the packs can be seen by as many as 1000 young people. Our aim is to get one into every Secondary School and College in the country. To do that we need a National framework that will support the dissemination of the pack and the training to go alongside it.
We work hard to raise the funds to keep our work going. This year is particularly poignant for us – on the 5th July it is the 5th Anniversary of Adam's Death and it would have been his 30th Birthday on 23rd September. We are organising an Anniversary Fundraising Dinner on the 19th September to celebrate his life and remember him with love and laughter. On his birthday we are having "Smile a mile for Adam" day with smiley face stickers to be worn – 1000 smiles will make a mile. On his gravestone it reads "His smile lit up so many lives" We want everyone to smile and be particularly nice to as many people as possible on that day, in memory of Adam.
People say the work being done by Dave is 'Inspirational' – Dave would say he is doing it for Adam who made the world a better place when he was alive and continues to do so after his death. We still miss him more than words can say.
https://eahconsequences.com/wp-content/uploads/2016/03/dave-rogers-mbe.jpg
333
250
johnflanagan
https://www.eahconsequences.com/wp-content/uploads/2016/03/eahc-logo-340x83.gif
johnflanagan
2014-06-14 18:44:13
2016-05-08 11:56:40
Congratulations to Dave